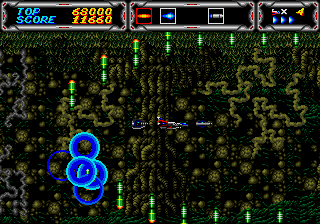 Level one and things begin to hot up. This trap will get you a few times... you have to wait back a bit, then scoot through fast before the missiles launch and blow up.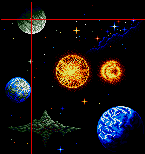 Choose your level you want to start with first.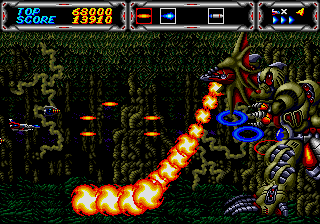 End of level 1 Boss tries to roast you with his hali-breath. Don't let him. He's nasty when he gets up close, as he spits out fast moving fireballs. Shoot the blue blob in his groin (!)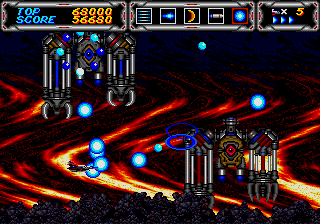 Level 2 is a speedy git. The background swirls around and is very offputting, but don't let it! Soon things speed up to almost unmanageable velocities, with pipes of lava shooting out from the flames. Clever players will manage to catch the hard to get 1-ups and weapons. Slower players will die trying:)

Seen here are the Bosses, two things with arms which circle round and spew bullets. Anyone noticed some similarities to Gate of Thunder here yet?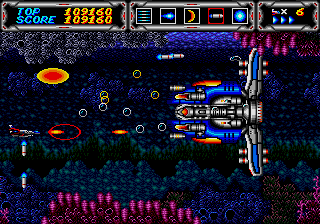 Level 3's mid boss. Watch out in this level for currents which actually move your ship around, often into the path of enemies.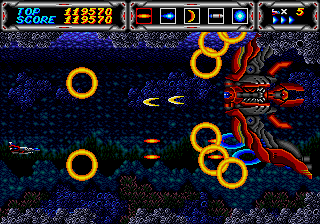 Level 3's end boss. One of the harder mothers - the doughnuts are big and hard to avoid, but to top it all he (she?) has normal shots which usually are the ones to get you, because you're busy avoiding the roundies.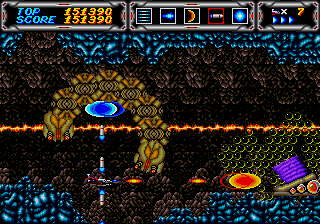 Level 4 has LOADS of traps....the background moves around, and you have to choose the right routes and get ready for any movement, as it doesn't hang about! Later on there are swinging rock piles, I've often blatted into these when I blinked.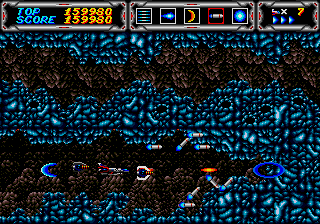 Here's one of those traps.... You go down this corridor (the above corridor is blocked) and there's a dead-end speeding up ahead! I'll bet you crash into the scenery in frustration the first time, as you're sure you took the wrong way. Well, you won't now I've told you not to. Just stay back, and the scrolling slows, then reverses. As you wipe a bead of sweat from your nose, a git of a ship comes up from behind and blasts your posterior. Some people might like a blast up the bot, but I don't:)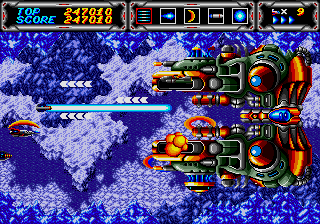 Next level starts to scroll all over the place, up, down, squinty ways... There's not much difference in colour between the hittable foreground and harmless background, so be careful ok? This pic is of the boss, as you may have guessed. Not much of a challenge, but be on your guard for those «««« bullets!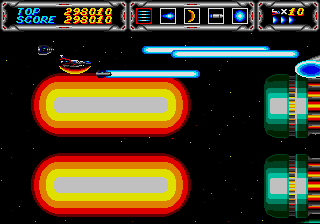 Now we're starting to get near the main bad guys. A huge ship attacks, first of all with these large and shockingly basic looking lasers.

I think they let the janitor design them. Let's pretend we didn't see them.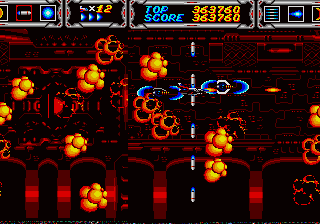 You have to get inside the ship, from a small hatchway below it, and blow the mother up. I don't know what you think, but I'd quite like to get out of here before it explodes!!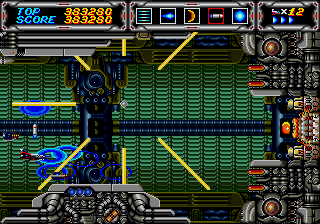 After a level which is curiously similar to Gate of Thunder, you'll meet the alien's equivalent of fire doors. Blast through a few of these and ...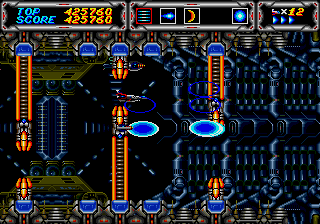 ... negotiate some moving blockades ....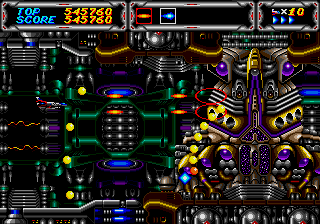 ... bursting into the MAIN BOSS, catching him with his pants down. For a 9-year old game, this boss is fantastic. He splits up into a few pieces, parts fall off, and after a good few hundred hits, he dies horribly. Sit back smugly and guffaw at the end sequence.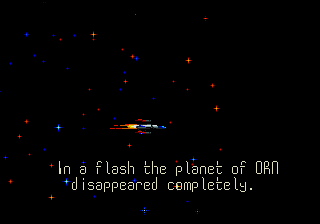 GIGGLE! as you read the lines written by a monkey.

CHORTLE! as you stare in wonder at the gumf scrolling up the screen.

WINCE! as you realise they're quite, quite serious...

Peace my arse!