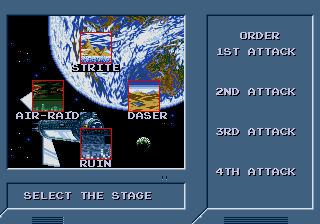 Wow! You can actually choose which order you want to take the first four levels in! Not that it makes much of a difference, but I have noticed that Ruins has some good weapons, and Daser has a shield.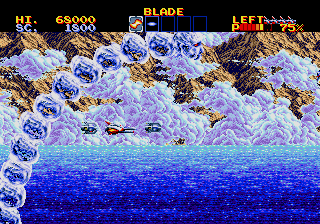 LEVEL: STRITE
Some sort of water bug. He looks depressed to me. Pretty hard to kill, even with the rail gun. Although you don't really need to as it's rather harmless.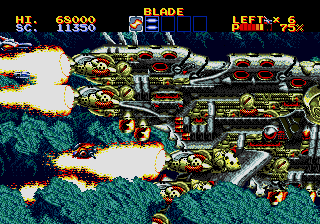 LEVEL: STRITE
Hmmm... Spaceships flying around underwater? There's nothing you can do to it, for now, so just try not to run into it.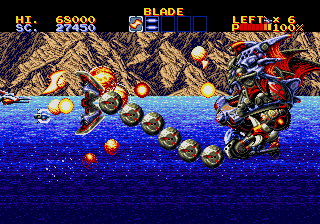 LEVEL: STRITE
The Strite boss. Watch out for that tail, it's longer than you might think.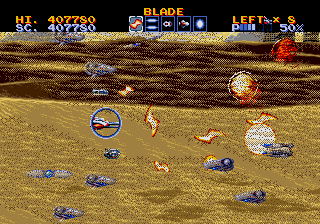 LEVEL: DASER
Daser is obscured by dust and has enemies that take many shots to kill. Not one of my favorite levels.

(Mine neither... I usually leave it until last - Malc)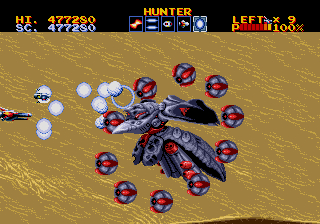 LEVEL: DASER
Daser level boss. Reminds me of the pharaoh from Salamander. This one takes an incredible amount of damage before it finally gives up.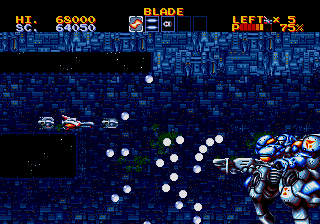 LEVEL: RUINS
A fat-looking robot on the Ruins level. It takes quite a beating. Watch out for the swarm of ships that appear while it's filling the screen with it's own shots.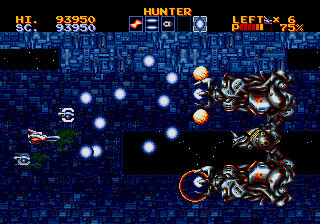 LEVEL: RUINS
The Ruins end boss. After you shoot off it's cannons, go for the bit in the middle. Looks kinda like an old fashioned version of the level five boss.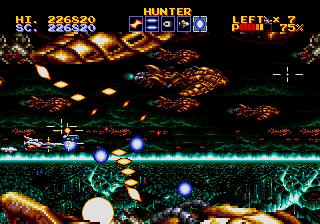 LEVEL: AIR RAID
The ships in the foreground shoot at you. They're easy to avoid, but it's still a really neat effect.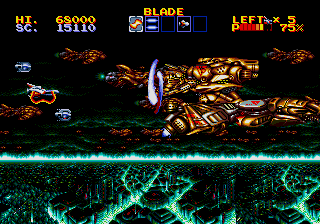 LEVEL: AIR RAID
The end boss of the Air Raid level. With a design like that, it's odd that it doesn't tip over. It helps to have the rail gun.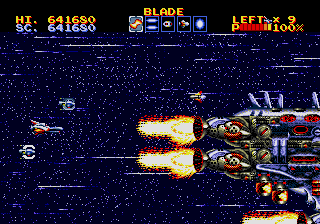 LEVEL: FIVE (Anyone got the names of levels 5-10?)


More of an intermission between levels.

(I love the whizzy star effect... like being on drugs - not that I'd know - Malc)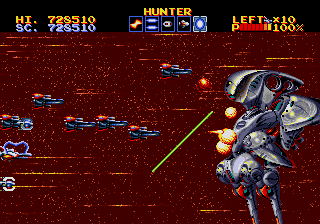 LEVEL: FIVE
You can't destroy this guy. You can be hit by the green lasers, so just sit by and watch him raze your buddies in their pathetic little ships.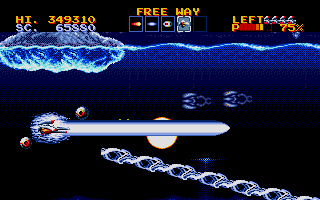 LEVEL: SIX
After you wade through the first four levels, you get an upgraded claw that charges up while you're not shooting to fire a superlaserthing. Yow.

Make sure you're not in front of any solid objects because it's got quite a kick.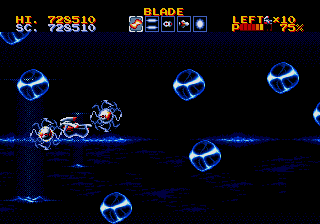 LEVEL: SIX
Don't worry about the ice things. if you run into one or more, they'll just stick on you and give you buoyancy.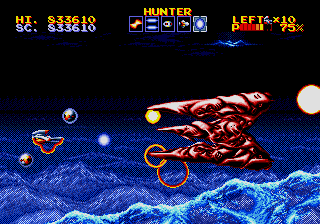 LEVEL: SIX
End boss of level six. Same procedure as the Ruins boss.

(That means you're going to die unless you have independently controlled eyeballs - malc)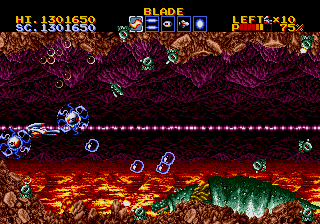 LEVEL: SEVEN
Level seven boss. Reminds me of a certain Thunder Force II boss. The first form is relatively easy.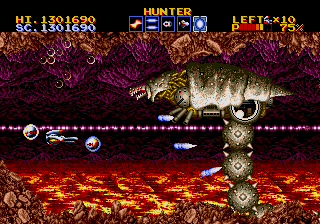 LEVEL: SEVEN
In the second form it shoots at you while lunging. Sometimes it seems like it'll crush you no matter how far back you are.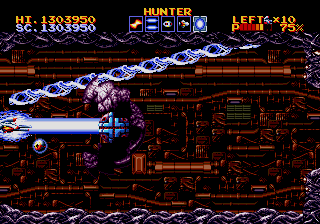 LEVEL: EIGHT
A sub boss of level eight. Having a claw is very useful here. Blast it when it opens up to shoot you.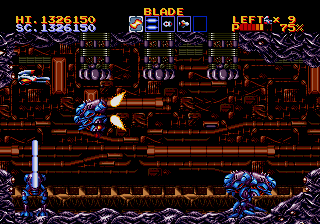 LEVEL: EIGHT
Shoot out the tubes dropping robots on your head. If you go for the robots their legs will fall off and become even more dangerous.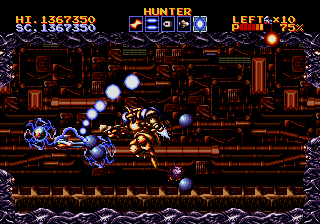 LEVEL: EIGHT
Another sub boss. Don't use the hunter because the spheres mess up the tracking. Blade works very well.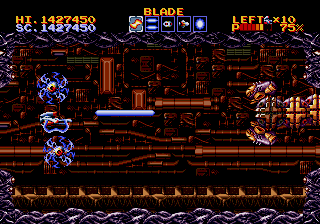 LEVEL: EIGHT
The first sub boss returns. Hit it when it opens it's mandibles. The claw weapon and the railgun work well.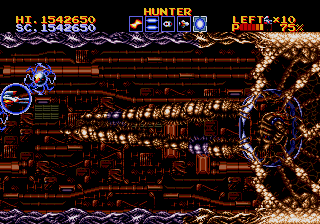 LEVEL: EIGHT
End boss. Go for the purple segments on the tentacles and the bottle will crack open.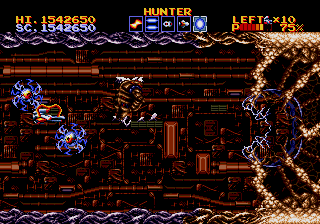 LEVEL: EIGHT
Now the boss is carried around by small flies. Very weird.

When you shoot the flies they fall and cause explosions that push you into the ceiling while the boss-thing falls to the ground shooting in all directions.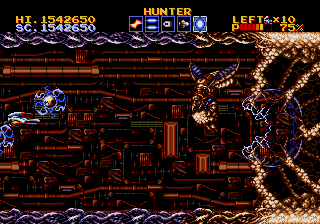 LEVEL: EIGHT
More weird. It's buddy comes along and carries it around while it drools on the ground causing explosions that can push you into the ceiling.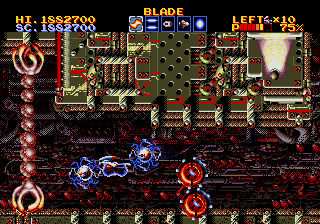 LEVEL: NINE
Watch that thing behind you. It tries to pull the ceiling down on top of you, revealing an extra ship.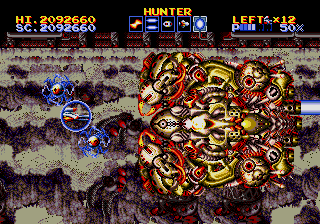 LEVEL: NINE
Get behind this boss at the beginning. Then watch out for it's flame blasts. If it starts to look suspicious, get out of the way.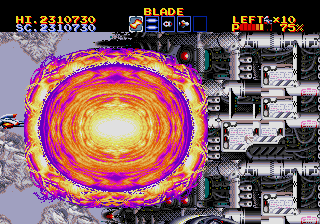 LEVEL: TEN
Now THIS is firepower. Reminds me of the BFG from Doom. You'll know it's coming when the enemy robot-ship dashes out of the way.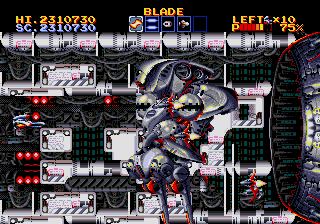 LEVEL: TEN
It's not very obvious, but you're not aiming for the thing flying around and firing missles at you, but the hole behind it throwing the full screen blasts at you. Very frustrating.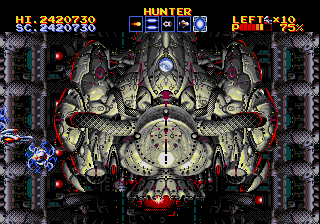 LEVEL: TEN
The big guy himself. It's strange that it can have so much vertical thrust and still not escape your ship oriented in the horizontal plane.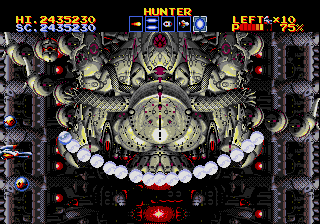 LEVEL: TEN
It's not very obvious, but after you shoot out the sides of the ship, you're supposed to aim for the crystal ball things instead of the ship itself. Weird.