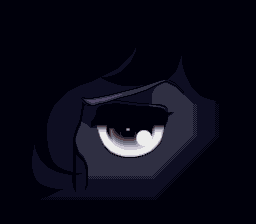 The anime telltale huge eyes....

I didn't know airplane controls were so simple....if you know your alphabet, you can fly a plane.

Welcome to the UN squadron. Meet your wingmen Unfriendly, Undesirable, Unstable, Underachiever, and Uncle Fred.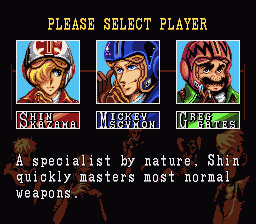 The real reason I pick Greg is that he looks like Super Mario flying a plane.

On the map, Try to aim for the moving levels first, like the nuclear sub and plane levels, because if these get too close to your base, you have to protect it.

In the shop, you can buy some extra weapons. BUY!!?? You mean we're in the military and we have to PAY for them? The bombs in the bottom left hand corner are the most helpful and most plentiful weapon. Some like the Nuke, can only be used once, but are devastatingly powerful.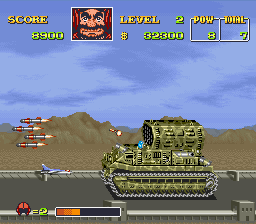 Too bad a mobile missile launcher can't fire downwards.....stay below firing range and blast away.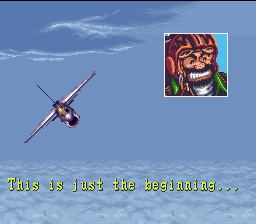 Every time you beat a level, you are treated (or have to sit through, depending on your frame of mind), a victory screen.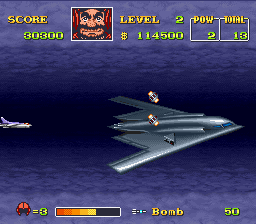 Destroy that airborne bundle of 10 billion dollars of taxpayer's money (don't tell them it was you though...)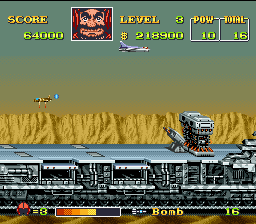 What's a carrier doing on land? Send your response to Shmups, c/o 22 McSplatterem Lane, Bonnieblastie, Scotland, and the most original answer will win an authentic F-22 interceptor plane, delivered straight to your house!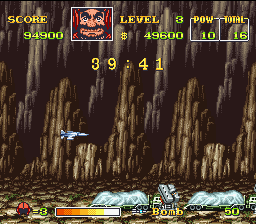 Here is the bonus level, you have to destroy three trucks before time runs out. I just smash right into them, since nothing fires back at you and its the quickest way to get the job done.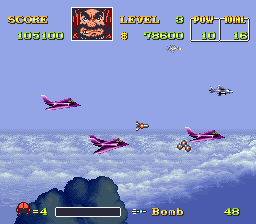 Three annoying mini-stealths plague the second flying level.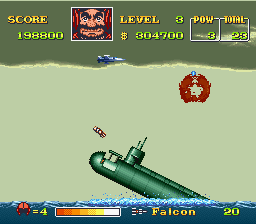 The enemy even throws a nuclear sub at you, which jumps up out of the water.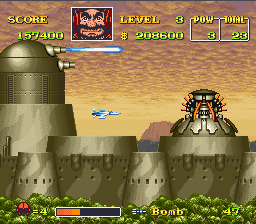 This level is a huge palace like the one in Strider, with big guns and other dangerous things, like a person running with a pair of scissors, or changing a light-bulb in the bath. (be careful).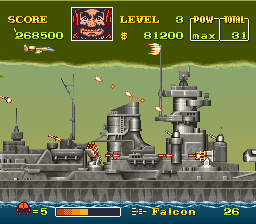 You sunk my battleship! UN is cool because the plane turns around at some larger bosses and does continual passes until you finish the job.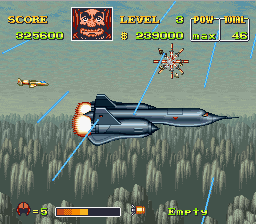 The Blackbird boss of what is, in my game, level 8. Stay away from the backside as his thrusters toast you.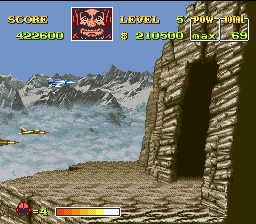 Into the cavernous level of 9. I wonder if Lara Croft has been here before?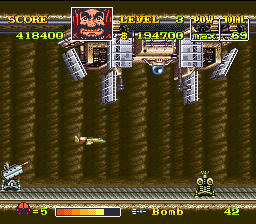 This is sheer stupidity. You need an upward firing weapon to beat this guy, and only the 5th and 6th planes have this ability, so in other words you need to have saved up and bought a higher priced plane by now. You are, of course, supposed to just somehow know this out of the blue....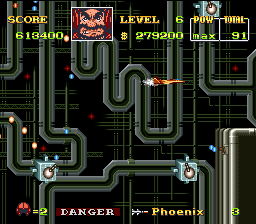 That unselectable level again, the final showdown. Look for hidden shields and powerups in this section, by shooting around in thin air. They are very helpful.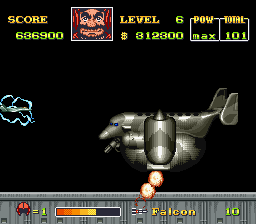 A warm-up boss as you approach the last guy. This plane doesn't look like it should fly...why the huge gut?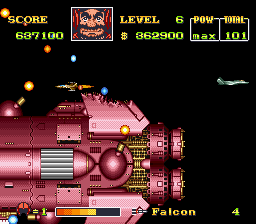 The last boss....shoot away the guns and fins, then expose the core. You need downward attacking weapons here, such as bombs. Save your specials for the core.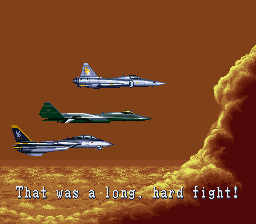 Oh, no...not another weak ending... if I see one more CONGRATULATIONS!, I'll scream! I guess half the fun is getting there, anyway...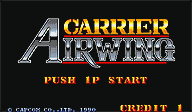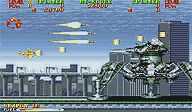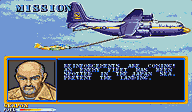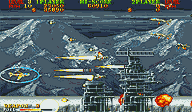 The followup Carrier Airwing is essentially more of the same, with some lovely new weapons, and the inclusion of Sean Connery as your CO. It's still mission based, but you don't get to choose the order of the levels. It never had a home console version afaik, but that lovely Callus emulator plays it beautifully.