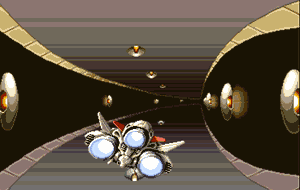 RT2 blasts off ready to poke sharp pointy sticks into the alien bug-eyes of the nasty invading hordes, whose name I temporarily forget. It's not the Bydo Empire anyway. We slaughtered them last time around.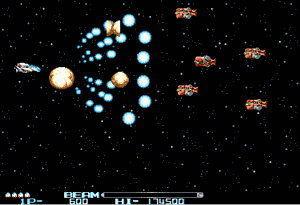 All the usual weapons are present, with a few upgrades and additions.

The holdy-downy and wait a bit weapon has a stage two blast, which has a wide range, very handy for splatting many wee enemy ships in one go.

Takes an age to power up though, quite often you get killed waiting for it.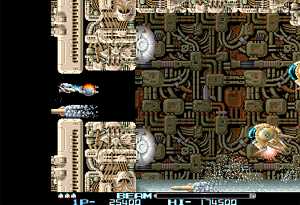 Very reminiscent of Level One, Rtype 1, the first level sees your small shippy penetrating the defences of the baddies.

Note the highly detailed graphics for which the series is rightly famous.

But don't stare to long otherwise you'll get a baddie sticking his podger up yer botty.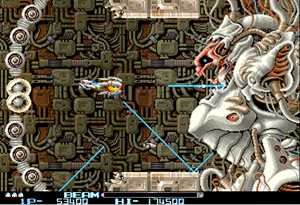 Again, a very close relative of the alien in the first game (the one with the swishy tail, remember it?)

This time it's got a metal coat on, and you don't actually realise who it is until you blast his hat off. See, look, see his wee red face.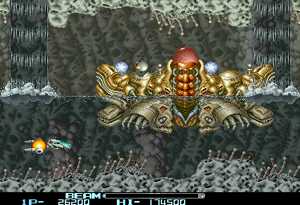 End of level two, after being accosted by rather annoying fishy creatures and bubbly worms, you come across a crab-like beastie which is intent to sitting on you quite hard and fast. Avoid being sat on, and blow his glowy red bit away to progress to my not-favourite level: THREE!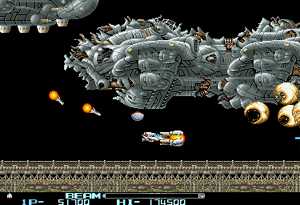 Traverse the dark skies abounding with large motherships, and you arrive here....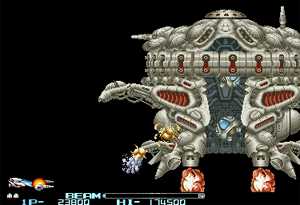 Excuse me, but I BLOODY HATE THIS BAST! Looking like a Moulinex Blender with a wee smiley face on the top of it (look closely!) it's so buggerin big you have NO ROOM to manouevre!!!

And if you die you've got a tricky minute or two to get back to the bit, only to get WASTED ONCE MORE! So please please if you can, supply this mangled soul with a couple of pics of levels 4,5,6.. ? Ta!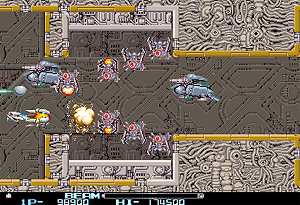 Ahaa!!! Thanks to Craig Taylor, I've just realised that JunoFirst supports saved state games! I'd previously discarded this emulator due to it being slower. Waltzing past the level 3 guardian (heh heh!), we rumble into level 4's shifting backgrounds, which do their best to pulp you flat.

At this point you realise Rtype2's graphics are much more subdued, muddy and intricate than the first one - looks like the graphics guy was in a pastel mood.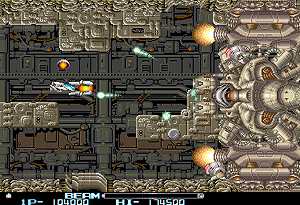 Big scaredy-cat of a boss this, runs away as you chase it blasting bolts at it's tummy. It is just me or are these later bosses easier to kill? Or is this saved-state thing too damn handy?;)

Anyway, it's made a bit more difficult by the boss obscuring obstacles until you're almost hitting them... not fair!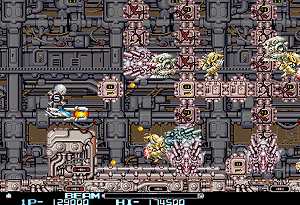 Level5, and getting bloody difficult here, watch out for the baddies which lay unbreakable walls, and their counterparts which eat them up again. I play this level like I drive (I shut my eyes at the hard bits).

A very generic level this one, I was looking forward to some Bio-monsters soon! Give us the flying green babies!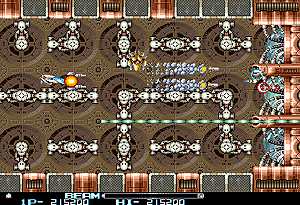 Oh bollocks, I think my levels are all mixed up again. Probably level 5 boss. Very inventive this, its got spinny gates that move around, as you try and bolt-blast the baddies blobby bits.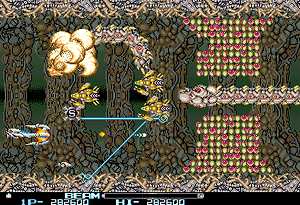 Level6 - taking the best bits out of the first game - some snakey things, some small blobby webs to destroy, very deja vu here.

Still, its Rtype and I'd be sacrilegious to complain about it eh.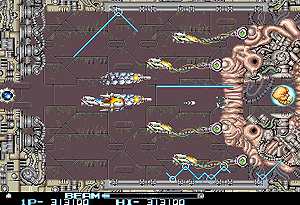 Heh heh heh!! All my fave bits rolled into one Mother! Alien babies, Biorganic bits, and look! wahey! its trapped some of your chums, which, on being freed help you shoot it! How ace is that! Probably the best bit in the game, and rightly so!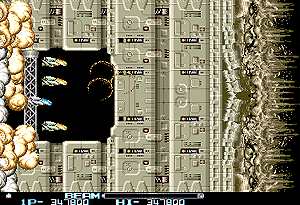 One of the very few games that says "Thanks for saving us", the end sequence is worthy of a good ciggie. Sit back and watch yer wee fighter escape the crumbling ruins of the Bydo Empire (Hmm, I was SURE they were killed off in part 1?). The very bestest bit is where your chums help you blast through a wall, only to be too slow, and frazzled by the explosion, while you escape and live to fight on in LEO!!! and Rtype DELTA!!! (coming soon!)