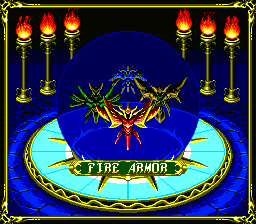 Choose your armour and weapon style before launching into the mayhem:

This spring's latest fashion, the "weather" line from Paris.

I like earth the best, with a strong high and low covering and powerful hits.

(personally I like the fire one better, but to each his own set of mythical armour - malc)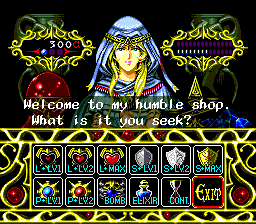 Ahh, the humble shop. I'd like a large slice of humble pie, with a side of self-sacrifice to go, heavy on the arrogance, and hold the haughtiness.

Always stock up on life, then buy weapon powerup, then if you have money left over shields. The elixir is great for the later levels, which restores all life during a level if you get killed.

Now we're all kitted out, we're finally blasting into the game....

Click on the map to see the levels!!

Every shooter map selection screen has the ominous looking center section
which you can never select until the others are beaten.

Once I want to see a humorous game where you can go straight to the last level,
beat the game, then go back to the starting stages. (That's a bit silly ;) - Malc)