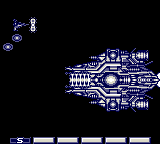 How to spot a gradius game:
This boss

Impossibly hard last level

Weak and feeble last boss (take note for later!)

EASTER ISLAND HEADS (they never make a gradius game without em!)
(Alternatively, you could just look at the box, Roger. Always a dead giveaway - Malc)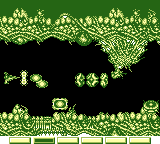 A midway level 2 shot.

The new 1998 fully stocked Vic Viper comes with air, sunroof, AM/FM radio, twin missile powerups, twin options, lasers for road rage, a lovely metallic ochre bodywork and a force field that easily handles those annoying traffic jams.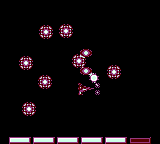 Now I would call this a miniboss, but from this level on you fight them RIGHT before the boss, not halfway, so I guess it's a boss jr. (??)

Add this to the "how to tell list" 5) A miniboss where annoying red and blue lights pop up out of thin air (as opposed to thick air) and fast paced, nervous Gradius music tries to trip you up even more.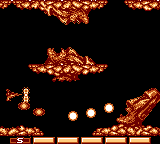 YES! The Easter Island Head level. It just wouldn't be Gradius without it. What are they, where did they come from, and why? Who cares, just BLOW THEM UP and exterminate some ancient civilization's culture and art (well they are shooting Cheerios at you).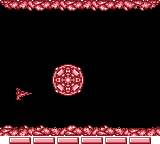 Boss jr. of Easter Island. Four circles converge into one giant one in the MIDDLE (hint: don't be there), which you quickly disassemble and then fight the bouncy-bouncies as four again. Which leads you to....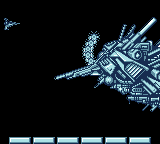 Boss sr. of Easter Island. A cool looking mech that lost the bottom half due to Konami taxcuts (mechs are expensive you know...). Nemesis bosses have simple patterns, just dodge the bullets and watch out when he tries to ram you.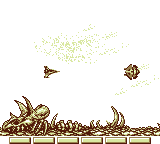 How did the dinosaurs die? CROSSFIRE!

Could have been lead poisoning as well I suppose?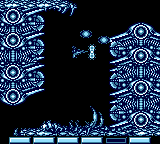 These large shapes remind me of hotels almost. Welcome to the Nemesis Hilton. Use glass elevators at your own risk.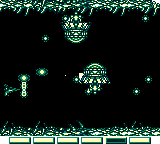 To beat this boss, collect as many bullets by as possible by running into them, and then collide with the jumping spaceships without any forcefield

(just wanted to see if you were still paying attention. For any shooter newbies, DON'T try this at home.)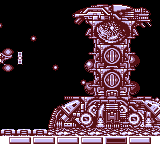 Time to get serious, this guy's a pain. Missiles shoot up from the ground (use your missiles to counter), and the top rises and sinks while blasting away at you. Take out the side guns, or if in a hurry just aim for the large circular middle.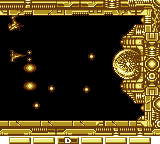 OK, finally the end guy! After a tough last level this baddie must shoot a giant laser from the ball thing, or break off and bounce around the room, or have some devious super weapon bent on your destruction...

...naaahhhh, he just shoots a little and sends level enemies out now and then. Just look at him crosseyed and he's finished.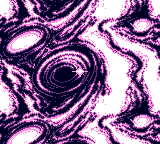 Here's a closeup of my mother's marble cake. Mix 1/2 cup flower, 2 eggs, etc. for a tasty treat. Add favorite iceing of choice, and eat up. Oops..that's the milky way, and you're flying out of it.

Looks more like a closeup of my dog's bottie actually. Not that I make a habit of inspecting dog's dangly bits or anything like that normally - Malc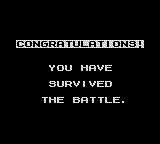 Survived!? I DESTROYED the invading enemy forces!!! You survive a trip to the DMV, you survive a lecture on communication law. I don't like this game's attitude.

(What's DMV Rog? I'm not so well up on these Yank terms matey!)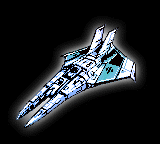 Finally a picture of the vehicle used to defend the galaxy.

Gradius II: Interstellar Assault was later released, but I like Nemesis much better: graphically, musically, and game playability.