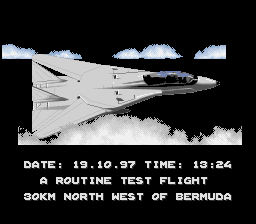 This pretty much speaks for itself. Remember the 30km, there's a quiz later on.

"911, can we help you?"

"Yes, someone's stolen my tank from the back yard!"

Yeah, right. It's a shooter, no need to get so involved.

We all know that daytime talkshows are really the greatest threat mankind ever faced.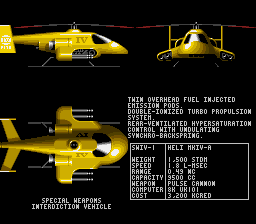 Jeep: The Jeep can jump, and can fire any way it wants to.

Heli: This could beat Airwolf with one blade tied behind its back.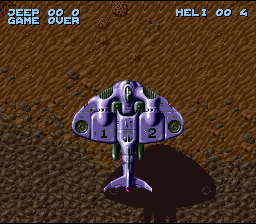 I don't know why they modelled the transport after a stingray, but after a long flight from HQ, this drops you off in the action.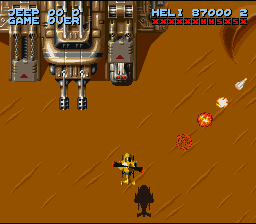 Boss 1: Hovercraft and lazers-bad combination.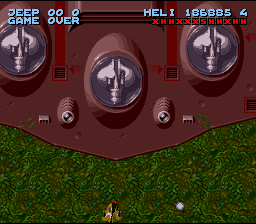 Boss 2: An even bigger stingray (is this Darius?) When the glass exposes the guns, blast away.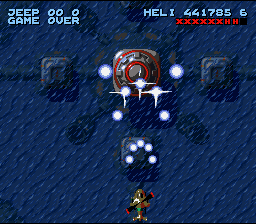 Boss 3a: Blast the center while....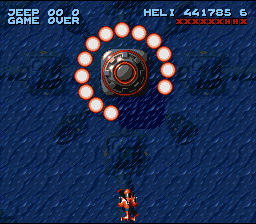 Boss 3b: heading for the opening in the circle that expands toward you.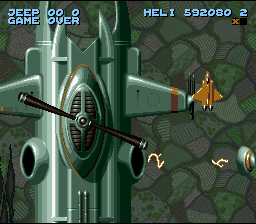 Boss 4a: This level starts on the ground and forces you to use a jet for the rest of the "real type shooter" level. The boss is a huge ship but not very challenging until...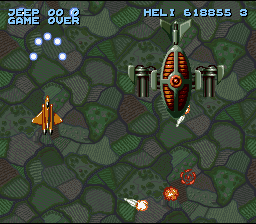 Boss 4b: The smaller escape pod breaks away and pounds at you.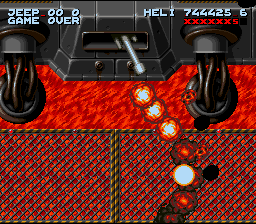 Boss 5: Ahhh, the flame level. Why does every game need a temperature dependent level (ice or fire?)

(malc: It's called 'lack of imagination', Roger. I'd personally like levels set in a dirty toilet, or travelling through my garden pond, complete with empty sweetie wrappers and green sludge)

Dodge exploding rocks and the stream of flame to cool this guy's jets.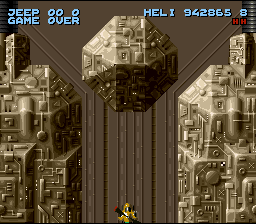 Boss 6: This was a letdown. The final boss is basically a bathtub stopper! Blast the center shape while avoiding the endless barrage of enemies, and you will see a new special weapon appear.

Shoot into the opened center (a la Star Wars) and presto! You win.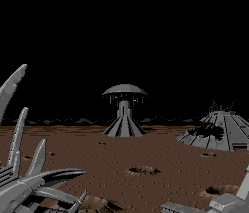 THE END!! You've destroyed the giant mushroom thing, recovered the missing equipment, liberated the underground army, and wasted a few hours that you could have been doing something constructive.