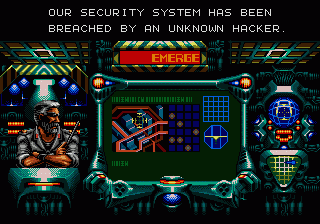 Choose yer character and skip hurriedly past the story.

The robot character is great - the double jump it uses can get you out of plenty tight situations!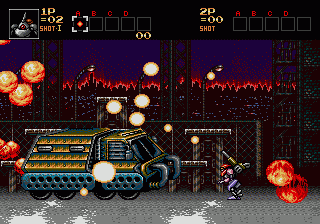 WAHEY!!!
We're off!
Wheeching into the first level, your character's skip-like vehicle mows down various baddies before you take control...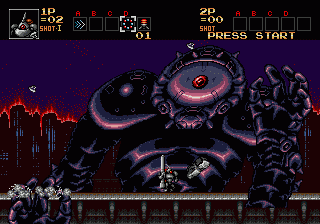 One of the first sub-bosses, level 1. This wobbly-animated monster robot razes the skyline before jumping into the screen and throwing small cars at your player. A very nice start to the game, make you almost pee yer knickers for more....


The end of level baddie - small yet dead hard! Beat him and you've got a choice of level 2!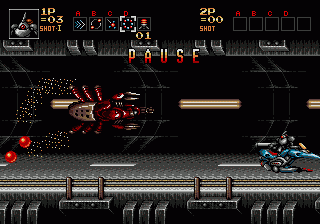 Into level 2, chasing the baddie, and we're scooting along on a hover bike, with a red spider robot lobbing loads of bombs and things.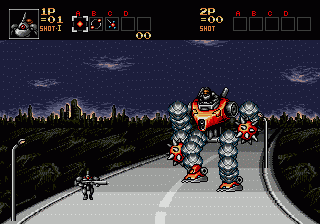 Aha! we've caught up with the baddie again, this time he's found another mech suit to play with.

Stunning into the screen scrolling level this!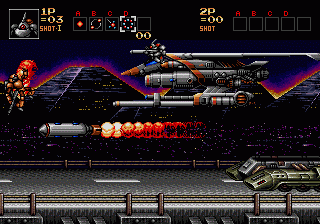 Alternatively, this is the other level 2 if you choose NOT to chase the baddie!

Jumping onto a friendly helicopter, you take to the skies.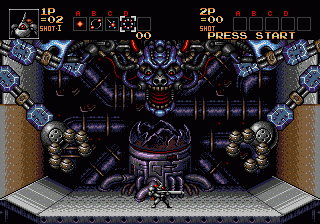 ... landing right in this blokes lap.

Kill him and you'll discover the unknown hacker ...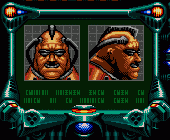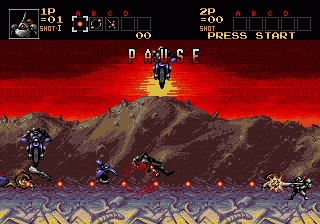 Level 3 - The Hacker, called Noiman (sic) lurks beneath a Junkyard... as usual he has henchmen to waste.

These bikes jump out of the screen at you - rather difficult bit this!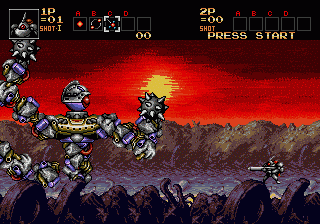 Level 3 - One of the sub-bosses in the junkyard has a hairy fit - things are beginning to heat up rapidly at this point!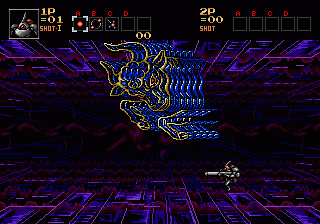 Noiman's Hideout - seems like he's a bit of an amateur lawnmower man, and has some VR style bosses to throw at you




Yes, I know it looks a bit crap - but it's cool the way the VR vehicles transform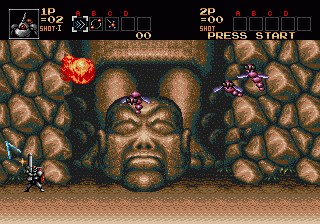 Jungley level - and large stone heads are raining from the skies, full of purple flies.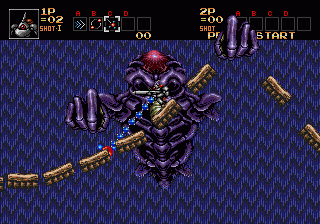 One of the most amazing bosses in the whole game, picks up the bridge you're on and shakes it about like a bit of string. Dangerous!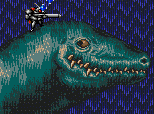 Standing atop a diplodocus' head for no apparent reason.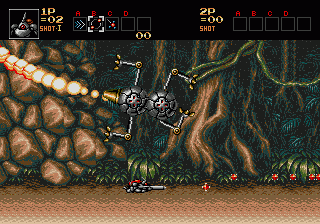 Ooh, this boss takes effin' AGES to kill.
DIE YOU ANNOYING GIT!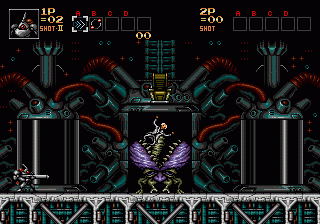 Aha! the professor was in league with the alien nutters all along! Here he gets his come-uppance and get swallowed by one of his mutated creations.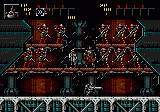 Here's his pals, pretending to be on the Muppet Show™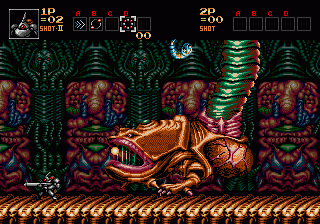 Missed out a few bits, don't want to spoil it for you people!

Aliens start to feature quite regularly near the end!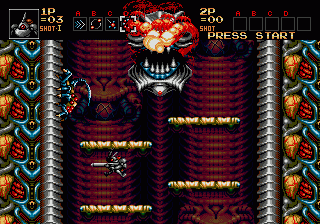 Climbing up the way, A large Alien starts to eat the smaller ones.

Saves you from having to shoot them I suppose. Nice alien:) Friendly alien:) AAAAAGH!! GERROF!!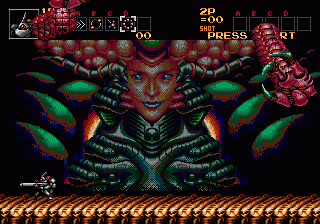 The Mummy Boss. All wavey arms, brains, and floating eyeballs.

This is weird, I don't remember coming this way last time I played it. I'm sure I must have taken a different route... I distinctly remember a level in which I raced to the end as billows of fire chased me...

Hmmm... full of secrets is this one!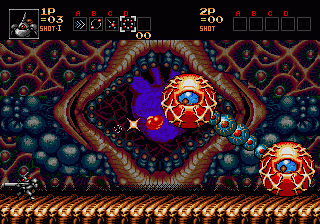 Some of those eyeballs and brains I was on about earlier - things move DAMNED fast here.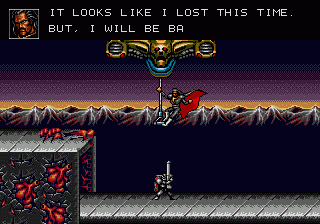 Wait a minute! I'm sure I fought him last time! Maybe it's got something to do with the routes earlier on! Yeah, thats it! Buggerit, I'll have to play it again to make sure!


Come Baaaaaaack! Coward!!!!!